News
5/10/2023: We're finally emerging from our winter hibernation with a bunch of new songs, as well as a couple of shows this spring/summer. First, we'll be playing the inaugural Providence Porchfest on Saturday June 10, 2023, when we'll be rocking Fred & Nancy's porch at 61 Arlington Ave. (right next to Brown University) starting at 4pm. Then, on Thursday July 13, we'll be returning to The Burren Backroom in Somerville with our friends The North Hill Band.  Check out our "Shows & Events" page for more information about both shows. 
8/11/2022: Thanks to everyone who came out to The Burren in Somerville last week on a hot and steamy night. It was great playing to a full house, with everyone enjoying a great sound system, tasty food and cold beverages. We hope to do it again soon - keep an eye out for more gigs this fall and winter. In the meantime, you can listen to our re-released and expanded debut album on all major streaming platforms (Spotify, Apple Music, Amazon Music, etc., etc.). You can also buy a copy on CD from our Bandcamp page.
7/5/2022: It's less than 1 month until our big "Dinner and a Show" gig at The Burren in Somerville on Aug 4. Get your tickets in advance and save money (use the coupon code "24HOUR" for additonal savings!): https://24hourconcerts.showare.com/ordertickets.asp?p=1464&src=default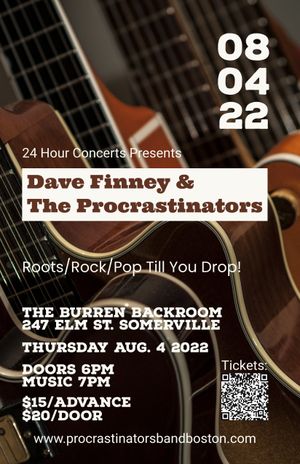 5/31/2022: We've got a couple of special shows lined up this summer. First off is Arlington Porchfest, where we'll be rocking East Arlington at 113 Palmer Street starting around 2pm on Saturday June 18th. Porchfest is a blast - we'll be playing outside most of the afternoon, so please stop by!  Later in the summer, we've got a BIG gig lined up at The Burren in Davis Square, Somerville, on Thursday Aug. 4th, as part of their "Back Room" concert series. This will be a seated show, where you can order dinner and drinks at your table. Advance tickets are highly recommended (and discounted). We need your support for this show! More info for both shows can be found on our "Shows & Events" page. Hope to see you this summer!
1/28/2022: Our first gig of 2022 will be Feb. 12th at The Natick Elks. If you haven't already heard, it's a really great venue - plenty of space to spread out, a big stage and great bar. We'll be playing 3 sets of Dave's tasty originals and some under-the-radar cover songs. This will also be the debut of our new drummer, Guy Seeley. No cover! You can find more info about the show on our "Shows & Events" page. Hope to see you there.
12/1/2021: We're playing the Natick Elks this Friday, 12/3/2021. Music starts around 8:15 and we'll play 3 sets of originals, covers and even some holiday tunes. This will be our last show of 2021. You can find more info about the shows on our "Shows & Events" page. Hope to see you there!
11/1/2021: New show alert! We're excited to have been invited to play the 2021 Boston edition of the International Pop Overthrow Festival! Being held this year at a cool new venue. the Flying Embers taproom in Boston on Thursday Nov. 18, we'll be playing a set of Dave's original songs. Check out the calendar event for all the details.
9/13/2021: Lots of news! First off, we'd like to introduce the newest Procrastinator, Linas "Casey" Jauniskis. Casey is a multi-instrumentalist who plays mandolin, banjo, and acoustic and electric guitars. He has really expanded our sonic landscape - we can't wait for you to hear our new 5 piece line-up. Speaking of which, we have some gigs lined up for this fall, starting with a Block Party in Arlington on Sep. 19th (contact us for details), as well as a gig at the Natick Elks Lodge on Oct. 8th (and again on Dec. 3rd). You can find more info about all those shows on our "Shows & Events" page. 
5/3/2021: Living up to our name, we have finally released our debut EP, "Procrastination Songs Vol. 1". Recorded pre-pandemic back in the fall and winter of 2019/2020, it features 5 original songs by Dave Finney plus one cover of a Tom Petty deep cut. The album is available for downloading or streaming from our Bandcamp page, as well as most major streaming platforms.
Procrastination Songs Vol. 1
Dave Finney & The Procrastinators
0:00/4:09

0:00/3:22

0:00/3:48

0:00/2:39

0:00/3:21

0:00/2:53
Procrastination Nation
"The band sounded fabulous and the mix of original and classic songs was inspired."
— Lucy MB
"So much fun, and you guys sounded great!"
— Leanne S
"Does anyone know where I left my beer?"
— Spike McDonough
Dave Finney & The Procrastinators - Live!